Ok, So I've not been able to do any work on this for about a week now, and should have about less than another week to go before I can, so I decided to start thinking about making some drafts for the linking areas between some of the sections in the compilation map. I wanted to tackle the most bizarre connection point first. It is the section that connects hlife_hotdog's undergrond level, aaron_da_killa's industrial level, and hlife_hotdog's other film studio level. So my task (and the task I'm asking help for) is to come up with a space that coherently connects an underground cave, an industrial alley-way, and a film studio together. Here's the catch though, the underground cave is about 3-4 meters higher than the film studio
. Here's an overview diagram of what the temporary connection looks like: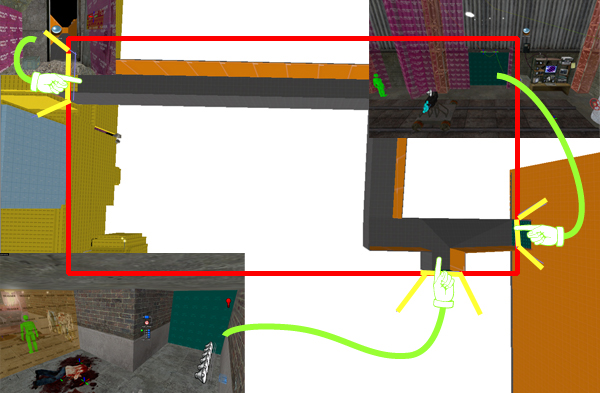 The red box is the space I have to work with to fit this space. I plan to use zero (0) amount of any kind of custom content; strictly hl2dm content only. The little mini-images with fingers pointing to their respective doors are views taken in Hammer from within those member's levels looking toward the exit space (looking toward the temporary hallway). So knowing that, I did some brainstorming, and the best idea I could come up with was a short hillside leading down to a shallow ditch just outside an urban industrial zone/film studio building. Although I can't imagine fully fleshing out that idea quite yet, so what can you guys come up with?